Water resistant woods: this is what you should know
When looking for the most befitting stain for your outdoor (or indoor) wood project, several factors need to be considered. There are two main stain types according to their bases- oil-based stain & water-based stain; and in specific conditions, one is practically better than the other. Depending on the type of wood, any previous wood treatment & weather exposure, both these types of stains offer different levels of coverage & protection. Here are some properties of both the the stain types to guide your decision:
- The water-based stain is breathable, does not emit harmful fumes or odors, is not flammable, dries quickly, retains its color for a longer period of time, offers a richer hue of color, is extremely resistant to mildew and mold, and is easier to clean requiring only soap and water; while
- the oil-based stain needs more time to dry that allows for a more even finish, penetrates wood deeper, requires less for long-term maintenance, is extremely durable and offers a thicker seal for wood. 
The type of wood also plays a key role in deciding the right stain. For example, when coating a wood with natural resistance to rotting, it is better to use a water-based stain. Examples of this kind of wood are cypress, cedar & redwood. 
Similarly, previous wood treatment is a crucial factor to arrive upon the correct stain. If the wood to be stained bears a previous coating of stain/ paint, care should be taken to ensure a new, even protective layer. It may be difficult to ascertain the previous layer,  but knowing it will undoubtedly help in choosing the apt stain. If the previous layer is oil-based, opting for a water-based stain now is advisable as the latter will adhere better as compared to an oil-based one.   
The kind of weather the wood will be exposed to is also significant in determining the best stain-base. If the wood element is going to have a direct exposure to rain, wind & sunlight, an oil-based stain is the best option. This is because it is more durable than a water-based stain, and will impart a much better protective cover against these weather conditions.
Interior spaces like bathrooms & kitchens are also in constant contact with varying levels of high moisture, especially bathrooms. And so, staining the floors & other wooden surfaces becomes important in these spaces too. In this image, the stained pine floor looks natural even in the monochrome design.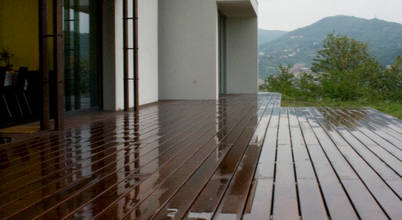 Video of Water resistant woods: this is what you should know
Water resistant woods: this is what you should know
lar wood is significantly more water resistant than is untreated wood. Treating the wood protects it not only from the elements, but from harmful wood-decaying organisms, according to the University of Minnesota. 8 Rot-Resistant Woods For Your Outdoor Projects. Wood has an undeniable warmth and an association with woodlands and natural landscapes, and one type of rot-resistant wood can be used in a variety of ways. From an environmental standpoint, wood is a great choice when it is locally sourced and sustainably harvested. What Other Woods Like Teak Are Highly Water Resistant?. All woods are porous and will absorb water, some faster than others and with greater resistance to fungus and decay from being wet for extended periods of time. I'm assuming this is what you're looking for. White Oak if an inexpensive wood that ha 9 Wood Species Best For Outdoor Projects. Expert Roundup: 9 Wood Species Best for outdoor projects There are many types of outdoor furniture made of materials such as wicker, metal, stone, and concrete. Whatever your preference, there are a multitude of materials available to fit your needs. Naturally Rot-Resistant Woods. Not quite as resistant as these, but still defined as resistant or very resistant, according to the FPL, are more common woods that are widely sold for outdoor use: various species of cedar, cypress, redwood, and white oak. The following two sections list domestic and tropical tree species whose wood is exceptionally resistant, resistant or very resistant, and moderately resistant.
Tags: Water Resistant Woods: This Is What You Should Know
Water Resistant Woods: This Is What You Should Know
LifeProof Terrado Oak Water Resistant 12 Mm Laminate
Homify
Smart Plywood Brown Wooden Boiling Water Resistant Plywood
Scratch Resistant Flooring Moisture Resistant Flooring
Aqua-Step Laminate
Dixie Home LVT
How To Make Wooden Baseboard Heater Covers.
Recommended Use: Understanding The Durability Of Your
Food Hygiene What You Should Know Poster
Laminate Plank Flooring Luxury Vinyl Plank Reviews Water
Water Resistant 3 Tier Teak Wood Corner Shelf Stand
Termites Attack Treated Pine Fencing
I Like This Color Bamboo Flooring
Ecoste
What You Need To Know About Plywood
Caulking Tips
Can You Really Be Successful Without Being Coachable
Condensation In A Residential Cabin: Things You Need To
FAQs -- After Gutting A Flooded Home
Food Safe Wood Finish Polyurethane
What Is Water Resistant Clothing? (with Pictures
How To Make A Paper Snowflake Tutorial
Roof Replacement
Designer Wood Watch By JORD
Bewell Luxury Brand Waterproof Wood Watch Men Quartz
Invicta Pro Diver Wood Watch
Dark Sandalwood & Smoke
Trending In The Aisles: LifeProof Slip Resistant Tile
Farmhouse Oak Solid Wood Flooring
17 Ways To Master Expanding Foam Insulation
The Tile Home Guide
Automatic Wood Watch By JORD
34 Best Images About What's New On Pinterest
Elegant Wood Watch By JORD
Seal-Once™ Nano Guard Plus Poly Waterproofing Wood Sealer
10 Tricks In Wood Staining
Choosing The Right Laminate Flooring
10 Interesting Facts About Glue
Ten Things You Should Know About Spray Paint
WO9 Shabby Chic Wood By Photography Backdrops UK
12 Things To Do Before Leaving Your Home On Vacation
Heat Resistant Wood Glue
But Are They Practical, Water
Everything You Need To Know About Hydration
[2-Pack] Hiccapop Foam Bed Bumpers Toddler Bed Rails With
ロングドレス, ドレス
7 Types Of Tile Materials You Should Know
What You Need To Know About Treated Lumber
Thin White Wood Planks By Photography Backdrops
Tamlee Bamboo Wood Watch
Learn Everything About Plywood
Flashing A Deck Ledger Board On Vinyl Siding
Artfully Aged Wood Finishes
Inspecting Underlayment On Roofs
Kylie Jenner And Jordyn Woods Take It To 'next Level
A Two-Tiered End Table
22 White Wood Floor Ideas And How You Should Combine It
Buy Dr Fixit New Coat Water Proof Coating Emulsions Online
The Wood Database - Lumber Identification
Venice Outdoor Dark Brown Wicker Swivel Club Chair With
How To Build A Solid, Frost-Proof Deck Footing
Possible Danger Signs On Purple Wood Stain You Should Know
Choose The Best Garden Hose Reel: Everything You Should
Skeleton Face Wood Watch By JORD
3 Things You Should Know About Social Proof According To
Causes & Effects Of Dampness In Buildings
Wood Shutters, Rustic Exterior Cedar Shutters- "Board And
Bulova Sea King Men's 98B244 Sainless Steel 300M Water
Gorgeous Sparkle Top Chiffon Open Back Homecoming Dresses